↵ Back to the list of interview
Allen, British Ambassador: "We rely on one supplier and South Stream doesn't help us!"
Interview with HMA Jonathan Allen, British Ambassador to Bulgaria and Energy Director for Central and Eastern Europ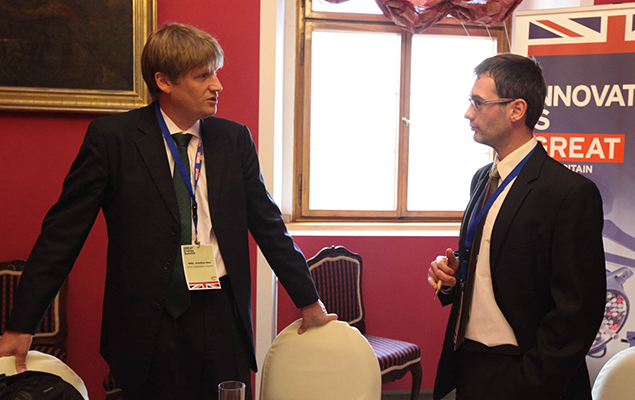 Apparently Europe is divided by the construction of the South Stream pipeline. Russian giant Gazprom and energy companies, such Italian ENI or French EDF, have formed the consortia aiming to supply Russian gas to Balkan, Austria and Italy through the Southern route. On the one hand, there are countries like Hungary and Bulgaria which see potential in high transit revenues. On the other hand, Ukraine and Slovakia are clearly afraid of losing the position of significant route delivering gas to Europe. In the following interview HMA Jonathan Allen, British Ambassador to Bulgaria and energy expert, has shared his views and concerns on this project.
According to your statements presented during the UKTI Great Energy Summit in Prague it is clear that you don't belong to the supporters of South Stream. Why?
The project doesn't seem to me, doesn't seem to the British Government, to be a very compatible with the decision made unanimously by the European leaders to back Ukraine in this difficult time being threatened physically and with the Russian troops on its territory. Obviously, South Stream is a controversial project in that perspective. The other thing about South Stream - if it goes through the EU, it must meet the conditions of the EU legislation and policy. There is no desire in Brussels to grant exemptions that favour Gazprom; we have these conditions for reason.
For the moment it seems to be suspended. However after the elections in Bulgaria, it could be invigorated again because it might increase the Bulgarian GDP by 1%. Don't you think they would like to go on?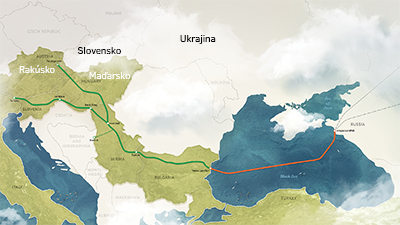 source: web of South Stream project
It is very interesting for me - the economics of South Stream. I do not know whether to believe this figure because the agreement signed between Gazprom and the Bulgarian Government is secret. So how is it possible to know whether it is going to increase the GDP or it is going to be burden on the country? It is not clear how exactly it will be financed, how Bulgaria will make money, what Bulgaria will pay in order to receive revenue, what construction costs will be. And there are some serious questions over the tender that was done in Bulgaria. The European Commission is investigating it and it is quite concerned about the tender. So I don't feel sure that South Stream is going to be of economic benefit for Bulgaria. It may well be but no one has proved it in a way putting things out to public. Yes, in Bulgaria there is definitely a lot of support in different political parties and people don't speak against it openly. I suspect there are number of complicated reasons for that including the fact that Gazprom controls 90% of the Bulgarian gas supplies.
Indeed, South Stream is not a diversification of sources, just routes bypassing Ukraine. However, some gas experts consider it positively bringing more infrastructure, more competition. Shouldn't we appreciate the Russian interest to pour billions of euros into the European market?
Why does South Stream help to Europe? We have plenty of routes from Russia to the EU. Why would the EU be worried at all about those routes? How does a very expensive pipeline, which couldn't be built commercially, help? I don't understand.
If there is some trouble on other routes it might be utilised.
What kind of troubles do you expect, technical or rather political? In this case it brings me back to my first point that the EU member states said that we want to support Ukraine in this difficult time being politically and physically threatened, with the separatists on its territory shooting down an airliner. I am not sure that helping the Russians to bypass Ukraine politically is a very good thing for the EU.
However, it might help the Italian market and Balkan states in case of supply disruption on the Ukraine route.
Of course I can see that having more routes make sense. The point is that in this specific time, the political ramification to this question is very clear. It is difficult to avoid the conclusion that it has been speeded up and taking forward so quickly because of what happens in Ukraine and it is risky now. Ok, maybe there is a small argument and it helps a bit because it diversifies routes and some gas can flow directly to the South-East Europe. But if you look strategically either from the political or commercial perspective what is the greatest threat in the energy terms in the Eastern Europe? It is the fact that we rely on one supplier. How does South Stream help this? It doesn't! It won't provide a single molecule of new gas from another supplier. And that is particularly concerning as well.
Are you aware of a new Ukrainian law allowing Kiev to stop the Russian gas transit via Ukraine? If they use it, they could undermine their position as a reliable transit country as well.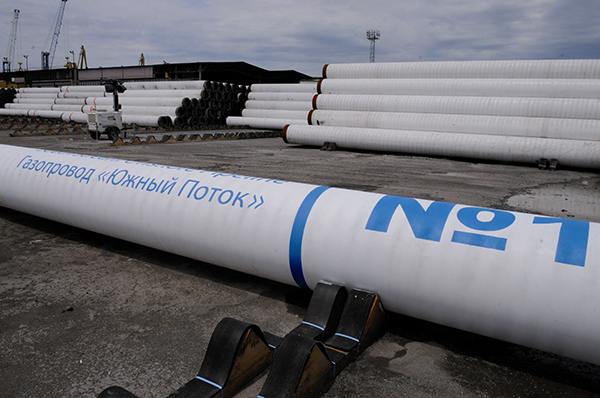 source: web of South Stream project
Alright, but then we return to the European legislation. South Stream has to meet the criteria of (i) the EU Third Energy Package, including Third Party Access and (ii) tender competition. And look at the competition which occurred in Bulgaria. Tender documents were published around Christmas time on a very short deadline. There is an amazing company - Stroytransgaz which apparently can do anything. Usually different contactors can do different things due to their different specialisation. But Stroytransgaz, owned by a man very close to President Putin, is capable of doing anything and they won the contact. That is incredible. Looking at that as a standard tender procedure happening in the EU is really surprising. So the European Commission has launched its investigation. We will see where they are going with it. But for me it is really, really a crucial thing.
Alright, but if you stop project like South Stream, you need to present an alternative. What would be the offer for Bulgaria, Hungary and other transit states?
That is a very easy question to answer because the alternative in terms of current supply of gas is already here. There is no new gas coming through South Stream. So how can we replace this gas? If you ask countries to take a decision right now - YES, NO, be dependent on Russia or not, they cannot do that. They have to stick with their current contracts because they are very dependent on Russia. Bulgaria gets about 90% of its gas from Russia. So there is no point let´s say "Slovakia, stop depending on Russia". It is like to stop breathing. But what we can say is "Slovakia, what is your plan in 10 years to be only 50% dependent on Russian gas?". For instance, Bulgaria has a number of options. First of all, is proper off-shore exploitation of the Black Sea. Even today, 10% of Bulgarian gas consumption comes from Black Sea. The second thing to do is to connect to the Southern Corridor. TAP consortium has presented their ability to increase its pipeline capacity from 10 bcm to 20 bcm a year. You can get even more gas from Azerbaijan, post sanctions Iran or other countries in Central Asia. Moreover, they should keep up with Transgas which plans an ambitious project upgrading their network in Romania with the interconnector to Hungary. There is the North-South corridor to be built in Central Europe with LNG terminals in both ends. Surely, there will be long-term costs linked to diversification. However, are we talking about diversification tomorrow? Of course not, it will take years. But we must do it.
Should we then try to get rid of Russia?
We shouldn't need to. In a sensible world we should be friends and commercial partners but not to be 100% dependent on anyone.
Thank you, HMA Allen.
The interview was done by Jozef Badida, an energy analyst of website epv.sk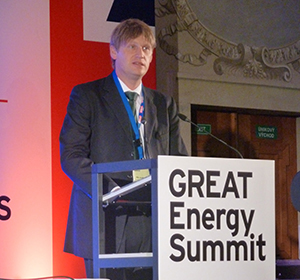 Jonathan Allen
took up the post of British Ambassador to Bulgaria in February 2012 and he is also Energy Director for the CEE region. Jonathan was Head of the East Africa and Great Lakes Department of the Foreign and Commonwealth Office. Between 2007 and 2009, he led a counter-terrorism communications unit (RICU). From 2006 to 2007, he was Assistant Director in the Home Office's International Directorate with responsibility for the Bulgarian and Romanian entry into the EU. Jonathan began his diplomatic career on EU issues and was posted to Brussels, where he was Government Spokesman during the UK Presidency in 2005. Ambassador Allen is a History graduated from Cambridge University